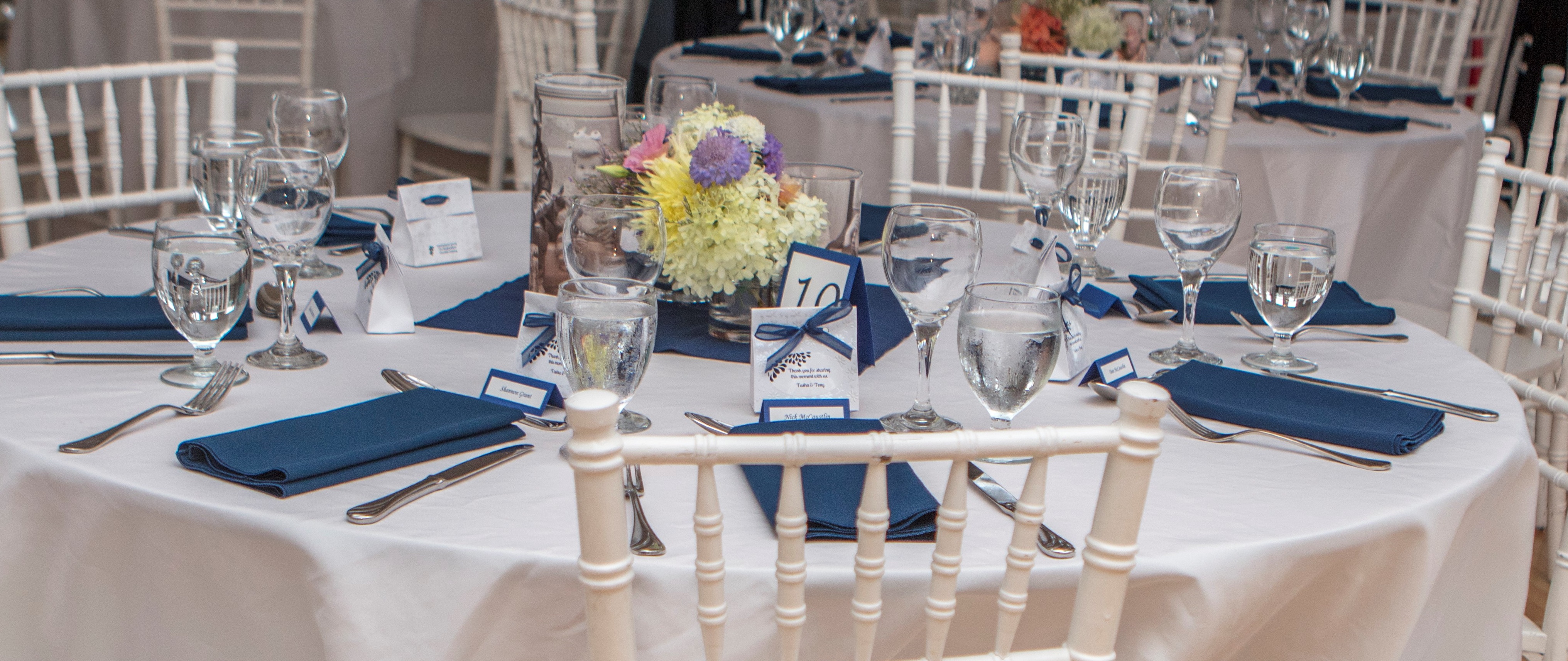 Renting the Reception Hall
The St. Mary's Boat Club is located at 1641 Fairfield Road, Halifax, NS. The upper level boasts a large reception hall with hardwood floors, stage area and a kitchen. The grounds feature a spectacular view of the Northwest Arm from the large deck, expansive lawns and ample parking. The reception hall is available for year round rentals and is primarily used for parties, wedding receptions and corporate functions.
Contact us to book!
Call us: 902.490.4688
E-mail: boatclub@halifax.ca 
DETOUR NOTE: CN Bridges Rehabilitation Project has closed the bridge on Jubilee Road. It is closed to all vehicles, cyclists, and pedestrians. Access to the neighbourhood, including the St Mary's Boat Club, is available from Quinpool Road via Prince Arthur Street. Click here for more information and an updated map of the detour. 
Reception Hall Capacity
The reception hall can hold 200 people, which includes the HRM Building Monitor, DJ or Band members, guests, etc. 
 
What is included in my rental?
Your rental of St. Mary's Boat Club's includes the following: 
 Tables:

 17 rectangular tables 2.5' x 8'
 3 rectangular tables 2.5' x 6'
 1 rectangular tables 2.5 'x 5'
 19 round tables 5' diameter (seats 8)

 200 chairs
 Kitchen, including a fridge, oven, freezer, and microwave
Air conditioning 
All other items (catering, dishes, linens, equipment, decorations, bar service, music) are the responsibility of the renter.

Please note: SMBC staff is available on-site during the event as a building monitor only.
Hours for Special Event Bookings
The St. Mary's Boat Club can be booked any day of the week. Contact us for more details. 
St. Mary's Boat Club Rental Fees
Weddings & Special Event Rentals:
Rental fee for April 1, 2023 to March 31, 2024:
 Music fees may apply. If you have music, you'll need to pay the SoCan and Resound fees.
ReSound Dance Fee: $30.62
SoCan Dance Fee: $68.05
Deposit: A $200 deposit (payable by cash, cheque, debit, Visa, MasterCard, or American Express) is required at the time of booking. You'll also be asked to sign a rental agreement. Damage deposit is returned 5 business days after event provided there is no damage to facility and all guidelines are respected. 
Hourly Rentals for meetings and other events:
Hourly Reception Hall Rentals – Weekdays | Daytime: 8:00 am – 5:00 pm
Rental fee for April 1, 2023 to March 31, 2024:  $102.00 +tax 
Hourly Reception Hall Rentals – Evenings (5:00pm-Midnight) and weekends
Rental fee for April 1, 2023 to March 31, 2024: $142.80 +tax     
Venue Availability Calendar
This calendar shows the confirmed bookings for the Reception Hall. This calendar will be updated each Monday (excluding Holidays). 
Rules and other considerations
Accessibility

The main level (reception hall) of the boat club is wheelchair accessible.

Bar Service & Liquor License

If you plan on offering a bar service at your wedding or event, you will need a catering or private bar service company to provide this service.  

The Caterer/Bar Service Company is responsible to obtain the appropriate Liquor License 
The Caterer/Bar Service Company will purchase all alcohol, manage and operate the bar and is responsible for all clean up including disposal of surplus products and empty containers 
The Caterer/Bar Service Company will provide a Certificate of Insurance evidencing proof of Commercial General Liability insurance with limits of not less than Five Million Dollars ($5,000,000.) and with liquor not excluded; name Halifax Regional Municipality as Additionally Insured under their policy and review their operating procedures with Staff 
(Recommendation) The Caterer/Bar Service Company is responsible to ensure that all staff serving or selling alcohol have obtained their Serve Right Certificate

Liquor License Information

If you are serving alcohol at your event, a copy of your liquor license must be shown to us, two weeks prior to your event. More information on Liquor License can be found here: https://beta.novascotia.ca/special-occasion-liquor-licence-class-1-2-and-3

The consumption, possession and/or selling of alcoholic beverages at St. Mary's Boat Club is permitted by license permit only. License must be posted, and no alcohol can be consumed or sold outside the times stated on license.  

Cancellations

Monday through Friday, meeting rentals require a 30-day notice to receive a full refund on the rental charge.  Weddings & special events require a 90-day notice to receive the full refund, however $200.00 security deposit will not be refunded. Full rental fees will be charged for bookings made or cancelled less than 90 days of the booking date (non refundable) 

Set up & Tear Down

Set up and tear down is the responsibility of the renter.  All events must end at 12 midnight,  music stops, lights come on and guest are to leave. Clean up is between 12 midnight and 1:00 am. Please make sure you have a tear down team with enough people to complete your tear down in one hour. 

Tables and chairs to be returned to proper storage area.
Garbage must be separated for recycling. 
Full bags should be tied off and left in the kitchen for removal by maintenance staff. 
 Kitchen (if used) should be wiped down
All personal items must be removed.
Rented items that are being dropped off and picked up by a rental company are the only items that can be left over night on the stage for pickup between 9:00am and 10:00am the next day. (Please advise staff of this in advance)

Music and Sound Levels

The St. Mary's Boat Club has an exemption to the noise by-law allowing weddings and events with amplified sound (DJ, live music or music from a speaker) to happen on Thursdays, Fridays, Saturdays and Sundays until midnight. 

Smoking

St. Mary's Boat Club is a non-smoking facility.