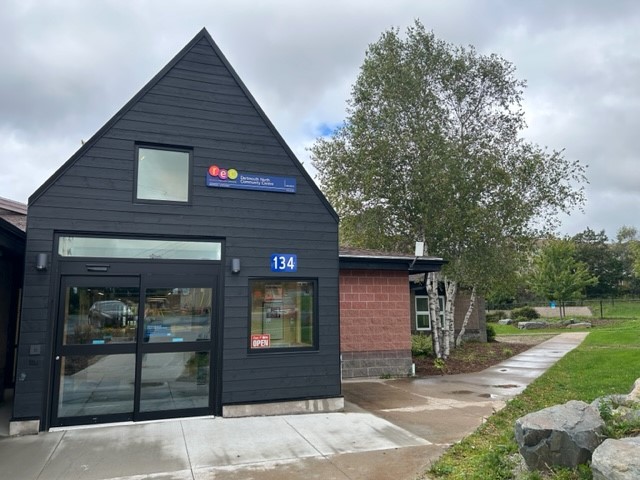 Renovation Updates
The renovations are complete and the Dartmouth North Community Centre has reopened. 
Address
134 Pinecrest Drive
Dartmouth, NS
B3A 0C2
Contact information
Front Desk Phone: 902.490.5900
Facility Hours
Mon-Thurs from 8:30 a.m. until 9:00 p.m.
Friday from 8:30 a.m. until 7:30 p.m.
Saturday from 9:00 a.m. until 6:00 p.m.
Sunday - open for rentals only
Summer Hours - July & August
Mon. to Fri. – 8:30 a.m. until  5:00 p.m.
Saturday & Sunday - Closed
Maker Space 
Active Programming Room
Meeting Room 
Large Multipurpose Room 
Wheelchair accessible
Licensed Kitchen
Public Library 
Free Wifi
Recreation Programs offered
Visit halifax.ca/myREC to see upcoming programs in north end Dartmouth and surrounding communities.
Free Equipment Available
Snowshoes and basketballs
Room Rental Fees
Dartmouth North Community Centre Room Rental Fees

Fees listed are per hour + HST, Fees in effect: April 1, 2023-March 31, 2024

Rooms
Classification
Adult
Youth
Community
Rooms
Classification
Adult
Youth
Community
Multipurpose Room
Room - Class A
$30.60
$15.30
$15.30
Activity Room
Room - Class B
$25.50
$12.75
$12.75
Dance Studio
Room - Class B
$25.50
$12.75
$12.75
Program Room
Room - Class C
$20.40
$10.20
$10.20
Kitchen
Room - Class C
$20.40
$10.20
$10.20
Meeting Room
Room - Class D
$10.20
$5.10
$5.10
Office
Room - Class D
$10.20
$5.10
$5.10
Information on User Group Categories

Youth Rates: Individuals up to and including 18 years of age. An affiliated youth sports team A sports team, 90% of whose players are 18 years of age or younger

Corporate Rates: Users who are renting on behalf of a for-profit business or entity

Community Rates: Non-profit Co-operatives Non-profit Societies Registered Charitable Organizations  & Canadian Collegiate Athletic Association

Adult Rates: Individuals who are 19 years of age or older University, college, or post-secondary educational institution teams/groups

How to Book

Before you apply for a Recreation Centre rental, download and complete a facility rental request form.

One-time bookings: For a one-time booking (birthday party, meeting, wedding, tournament, special event), contact the recreation centre directly with the completed form.

Recurring bookings: For seasonal recurring bookings, email a completed application form to the booking contact person indicated on the Recurring Rental Contact List Chart.
Map