2024/25 Municipal Budget
Regional Council has begun the 2024/25 municipal budget process by presenting the 2024/25 Budget Direction on Nov. 28, 2023.  
The Budget Direction is presented annually to Budget Committee with recommendations for tax and non-tax revenues to accommodate changing operational costs, capital investments, as well as debt and reserve changes. It is also reflective of on-going and emerging opportunities and challenges. 
The Budget Direction sets the underlying assumptions that each business unit will build their proposed Operating and Capital Budget on. 
Municipal staff provided Regional Council with an update on progress on the Strategic Priorities Plan 2021-25, including the 2022/23 Strategic Performance Report, on Nov. 28, 2023. The Strategic Performance Snapshot, the municipality's public-facing dashboard with key performance indicators aligned to the Strategic Priorities Plan, has been updated with data for 2022/23. 
The annual Strategic Performance Report highlights the municipality's progress on delivering Regional Council's priorities and the priorities of the administration as outlined in the Strategic Priorities Plan 2021-25 in the governance and management of municipal services, staff and finances. 
The annual municipal budget funds all costs associated with servicing a growing municipality. This includes day-to-day municipal operations (for example, transit, police, fire, garbage collection, snow clearing, staffing costs), capital priority initiatives approved by Regional Council (for example, HalifACT, Cogswell District project, Integrated Mobility Plan), as well as capital projects and investments to purchase, construct, rehabilitate and replace municipal assets such as buildings, roads, active transportation, parks and bridges. 
Municipal staff will return to the Budget Committee on the following dates to present key items (see below). Information on each of these items will be posted on halifax.ca the Friday before the meeting.
Tuesday, Dec. 12 – Capital Update & Advanced Tenders Report 
Wednesday, Jan. 24 – Assessment Update & Capital Plan 
Wednesday, Jan. 31 to Friday, March 8 – Business Unit Presentations 
Tuesday, April 2 – Budget Adjustment List 
Tuesday, April 23 – Budget Approval 
See the below recap of the 2023/24 Municipal Budget.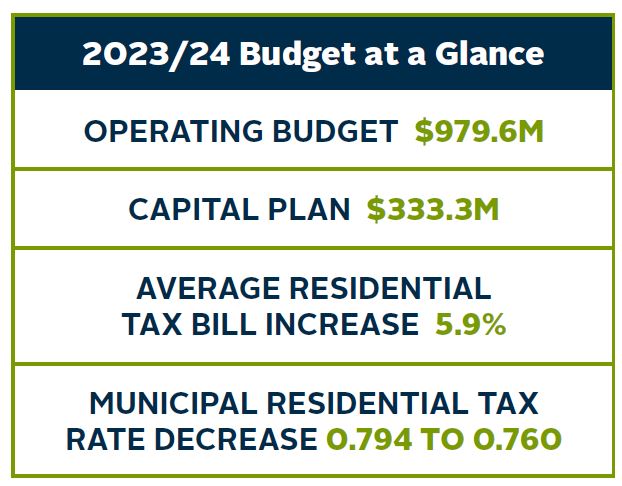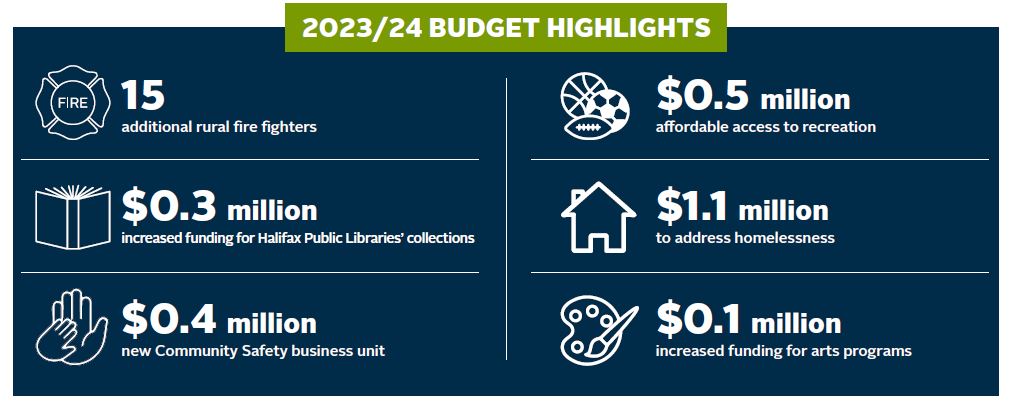 Learn more about the key programs and capital projects included in the 2023/24 municipal budget, click here.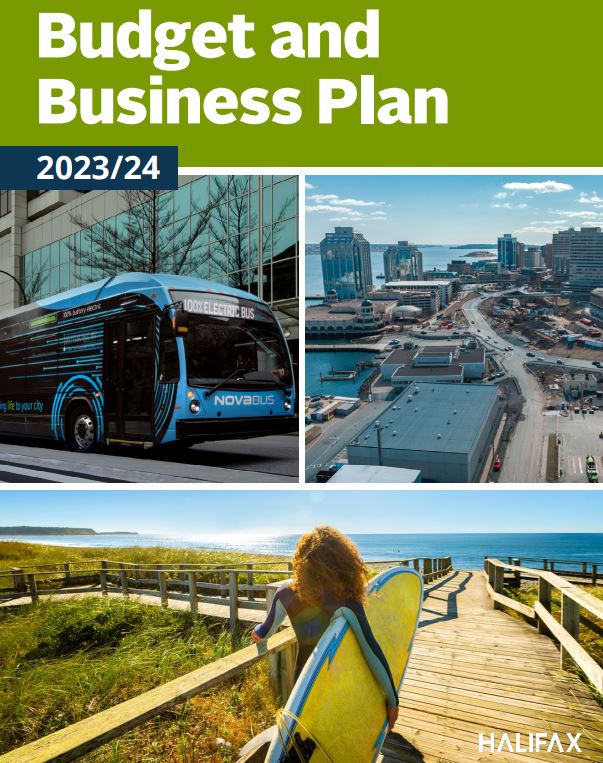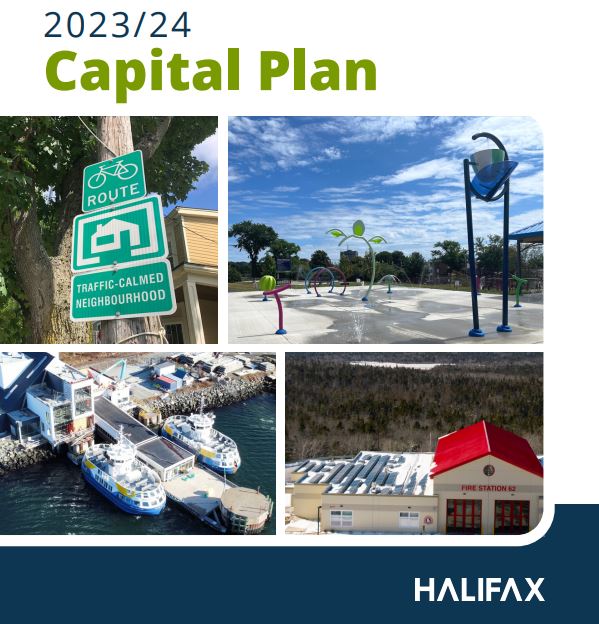 2023/24 Capital Plan
See the finalized 2023/24 Capital Plan, which was ratified and approval on Tuesday, April 25, 2023.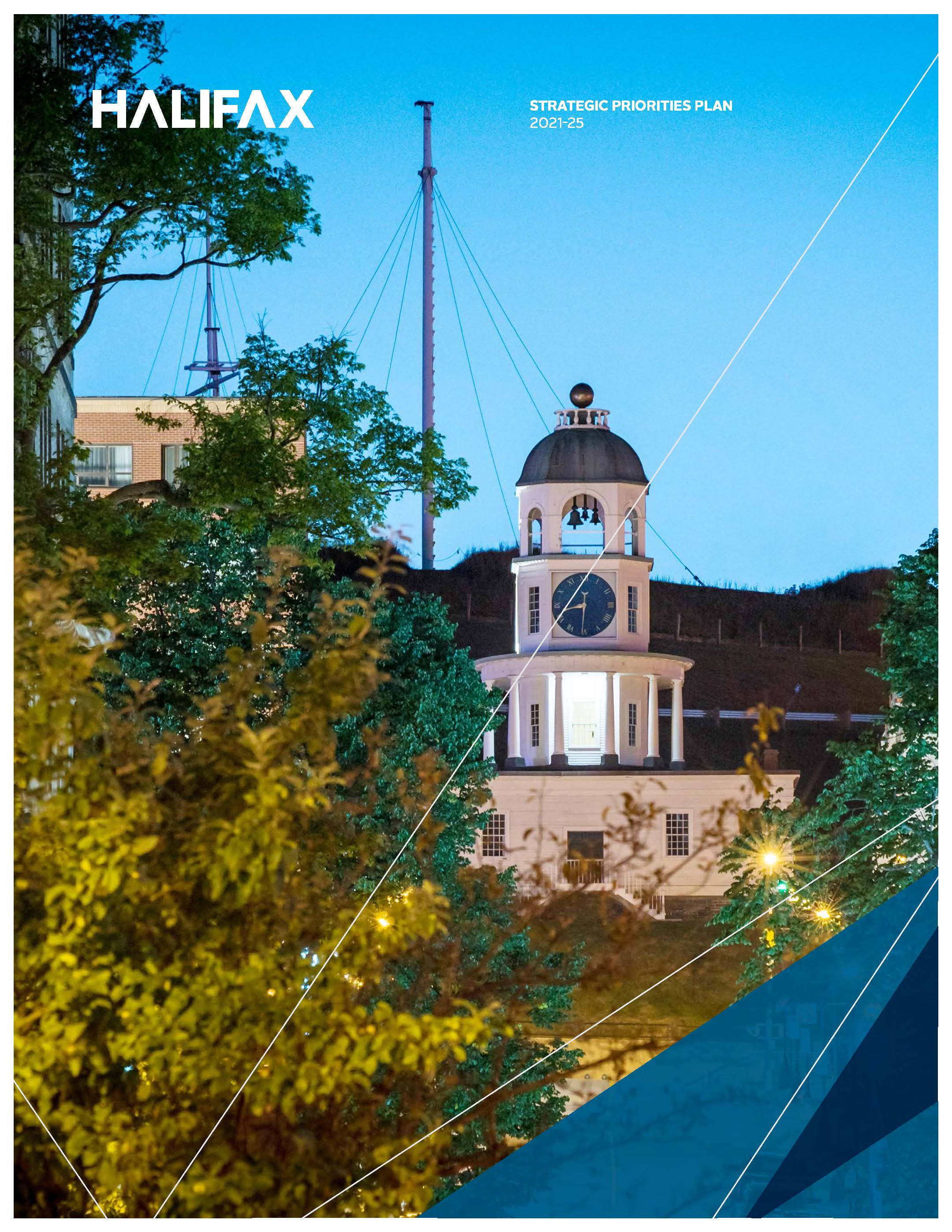 Strategic Priorities Plan 2021-25