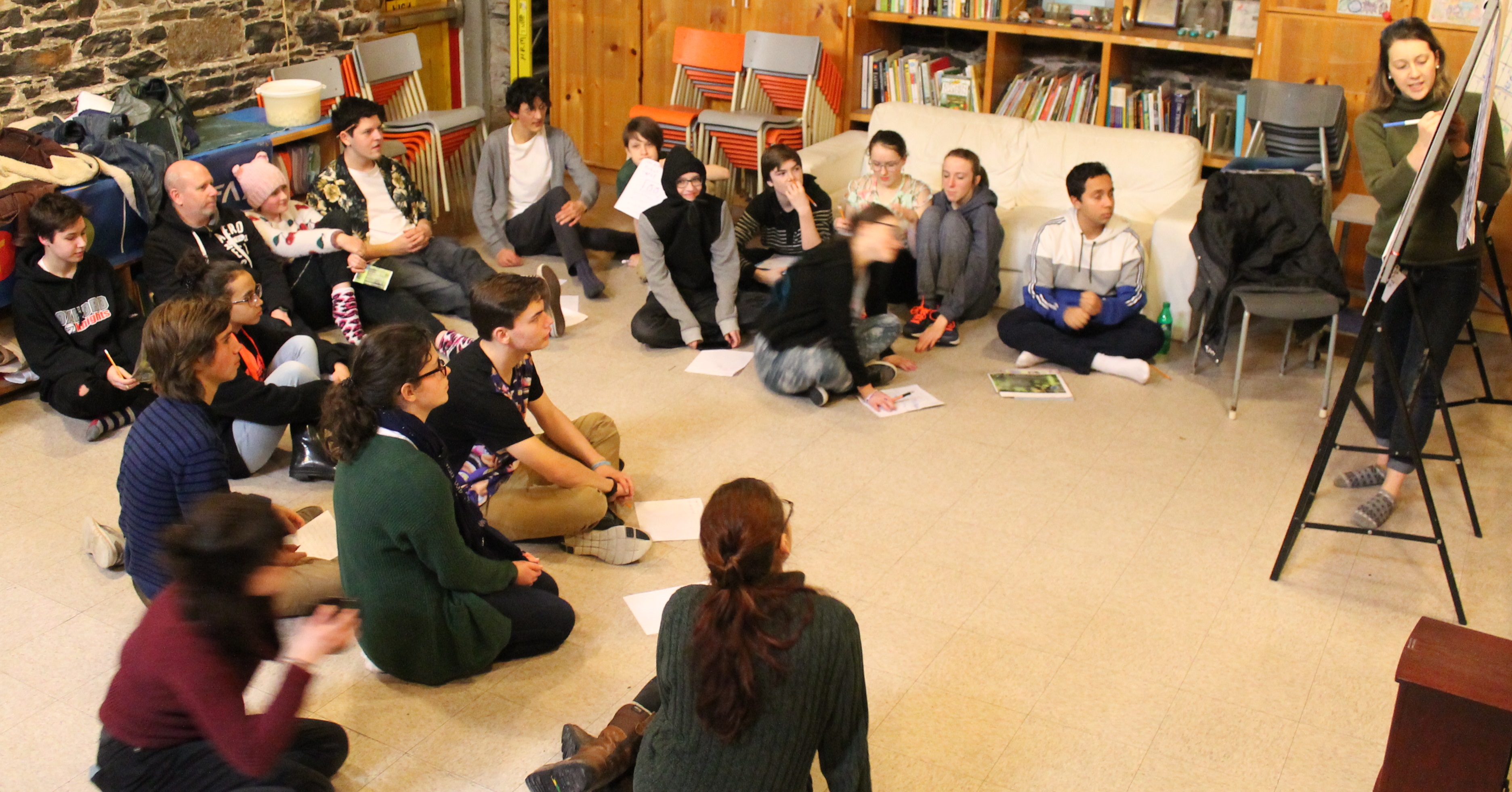 H.E.A.T. or Helping the Earth by Acting Together (H.E.A.T.)!
H.E.A.T. is a "youth-driven" environmental and leadership group that meets regularly throughout the year. "Youth-driven" means that all activities, events, camps, and programming is designed and picked by the youth! H.E.A.T. provides great opportunities for youth, ages 13 and up, who have an interest in the environment, their community and who would like to "make a difference".

The H.E.A.T. team's events range from socials (weekend retreats to Camp Mockingee, Dungeons and Dragons nights, etc.), community actions (volunteering at a food bank, making props for programs at the Adventure Earth Centre, awareness nights, community outdoor libraries, etc.), environmental leadership with children (Cycle Savers, Mysterious Encounters Earth, day camps, sleep-over camps, and many more), or skill building workshops!

The H.E.A.T. team designs their programs around these themes: socials, physical/mental health, community, and the environment.
Interested in joining H.E.A.T. or a H.E.A.T. event?
Please contact deanch@halifax.ca.
You will need to download, fill out and e-mail back the following documents: 

Fall Programs | H.E.A.T.
 
Eco Job Series
Our youth group is especially focused on raising Earth-conscious youth who are comfortable and competent in the outdoors, and active members of their communities. As such, many that grow out of our youth group (called Helping the Earth by Acting Together – HEAT) and into the workforce are very interested in pursuing positions related to natural sciences, sustainability, conservation, natural resource management, eco-technologies, teaching, gardening/farming, activism, you name it.
We are planning to host an Eco-Jobs series this fall for youth to explore all the incredible options for lines of work in the environmental field here locally. Many youth are in late junior high and high school and will soon be making academic and/or employment choices that will impact what jobs and careers they will qualify for in their near futures. The HEAT coordinators want to help set these incredible youth up for success in this field of work which isn't always easy to get into. So, we are asking organizations that would be willing to give a short presentation about what they do at their organizations and how they got into this work, what skills are needed to get into your line of work, and generally any advice for youth potentially looking to enter this field.
To register or for more info, e-mail deanch@halifax.ca.
We have four dates, one each month of the fall school term.
The dates are:
Wednesday, September 7th
Thursday, October 6th
Monday, November 7th, and
Tuesday, December 6th.
Each event will take place from 6:30pm (18:30) until 8:30pm (20:30) these evenings. We can therefore accommodate multiple presentations on the same night - depending on the presentation length, around 4 presenters per date.



The H.E.A.T Hike Series
The H.E.A.T hike series will give anyone that wants to join the opportunity to explore some of the most beautiful areas we can access within the HRM. We will be completing a series of hikes at different times of the week, various times of day and on different terrains. Our staff know all these locations well, and one of our objectives will be to show others how to access and use these location safely. It took as a long time to come up with a list as there are so many great locations on our doorstep, however we have settled on seven.
To register or for more info, e-mail deanch@halifax.ca.
More details on where to meet will be provided once you register.

27th August – Suzies Lake Blue Mountain Birch Cove
11th September- Musquodoboit Trailway
21st September- Sandy Lake
2nd October- High Head
12th October- Hemlock Ravine
23rd October- Bluff Trail
12th November- Spyfield Backlands/ Shaw Wilderness
Within this series we hope to show participants how to be prepared and safe on short (1-2 hour) and medium (3-4 hour) hikes. We will be using public transport to access some of these locations and hope to show people that the outdoors can be more accessible. There will be a range of weather conditions and variety of trails we will complete during the late summer to early fall.

We would hope that participants can attend at least three of these hikes and complete the H.E.A.T hike series challenge.
H.E.A.T. Calendar of Events: