Real Time Paid Parking Availability Map
Pre-plan your trip downtown! This map shows overall paid parking utilization by zone in real time. Use this data to determine which zones should have available parking capacity, making it easier to find a spot when you arrive.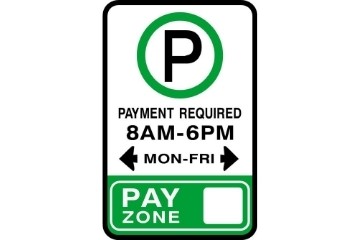 Pay Stations 
On-street parking is a pay-by-plate, pay-by-zone system. There is a mixture of paid, permit, and hourly parking in parking zones.
The on-street pay stations allow for payment by coin, debit card, credit card, and smartphone. Payment is attached to your vehicle (by your license plate), not the parking space. This means your vehicle can move freely within the parking zone up to the time purchase or maximum time allowed.
How it works:
When looking for on-street paid parking in areas that have historically had meters, look for these signs and note your pay parking zone. Zones are listed on parking signage and are letters A through J.
Once parked, you can find your nearest pay station to pay using coins, debit/credit (tap only), or smartphone. You can also use the HotSpot app on your mobile device to pay (download it on the App Store for iPhone or Google Play for Android). HotSpot is a third party app that has partnered with CALE Canada to provide our parking solution. Users can opt for a per-transaction fee of $0.10, a monthly fee of $2.00, or an annual fee of $20.00. The HotSpot app is offered as an alternative method to manage parking sessions, however it is not required to park on street. 
Tip: You will need to know your license plate and parking zone to initiate a parking session using a pay station or HotSpot. Note your license plate in your phone or write it down on a piece of paper and keep it in your purse or wallet so you don't forget.
Parking using a pay station for the first time? Follow these steps: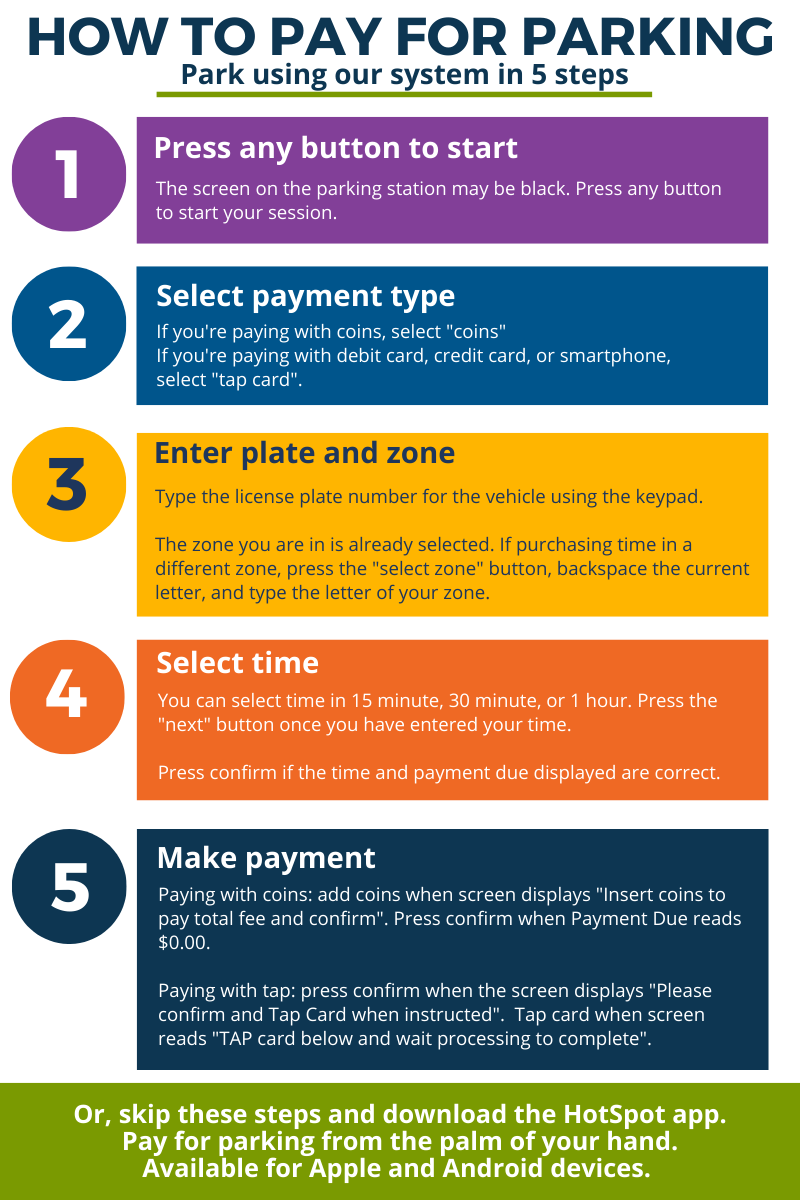 Press any button to start - The screen on the parking station may be black. Press any button to start your session.
Select payment type - If you're paying with coins, select "coins". If you're paying with tap debit/credit or smartphone, select "tap card".
Enter plate and zone - Type the license plate number for the vehicle using the keypad. The zone you are in is already selected. If purchasing time in a different zone, press the "select zone" button, backspace the current zone letter, and type the letter of your zone.
Select time - You can select time in 15 minute, 30 minute, or 1 hour increments. Press the "next" button once you have entered your time. Press confirm if the time and payment due displayed are correct.
Make payment - Paying with coins: add coins when screen displays "Insert coins to pay total fee and Confirm". Press confirm when Payment Due reads $0.00. Note: Pay stations do not provide change. Please use exact coins.

Paying with tap: press confirm when the screen displays "Please confirm and Tap Card when instructed". Tap card when screen reads "TAP card below and wait processing to complete".
On-street parking rates:
Where on-street paid parking is available, it is divided up into parking zones. Parking rates are based on time-of-day demand within the parking zones. Rates vary by zone and time can be purchased in 15-minute increments for all zones.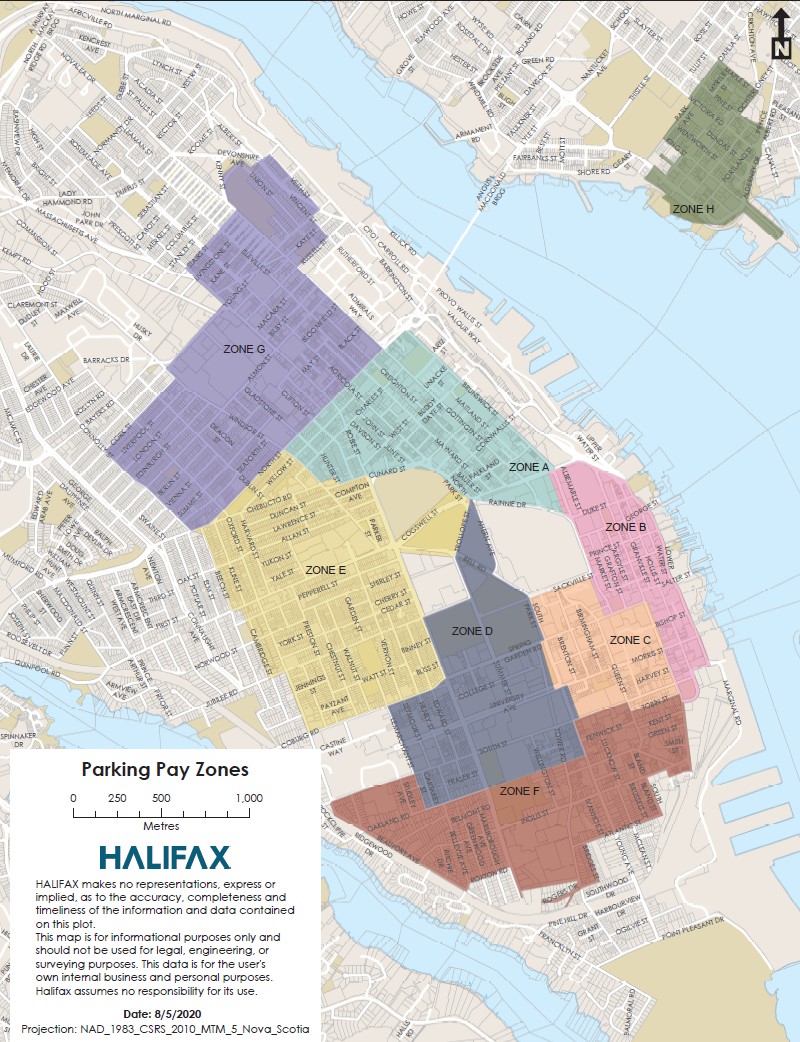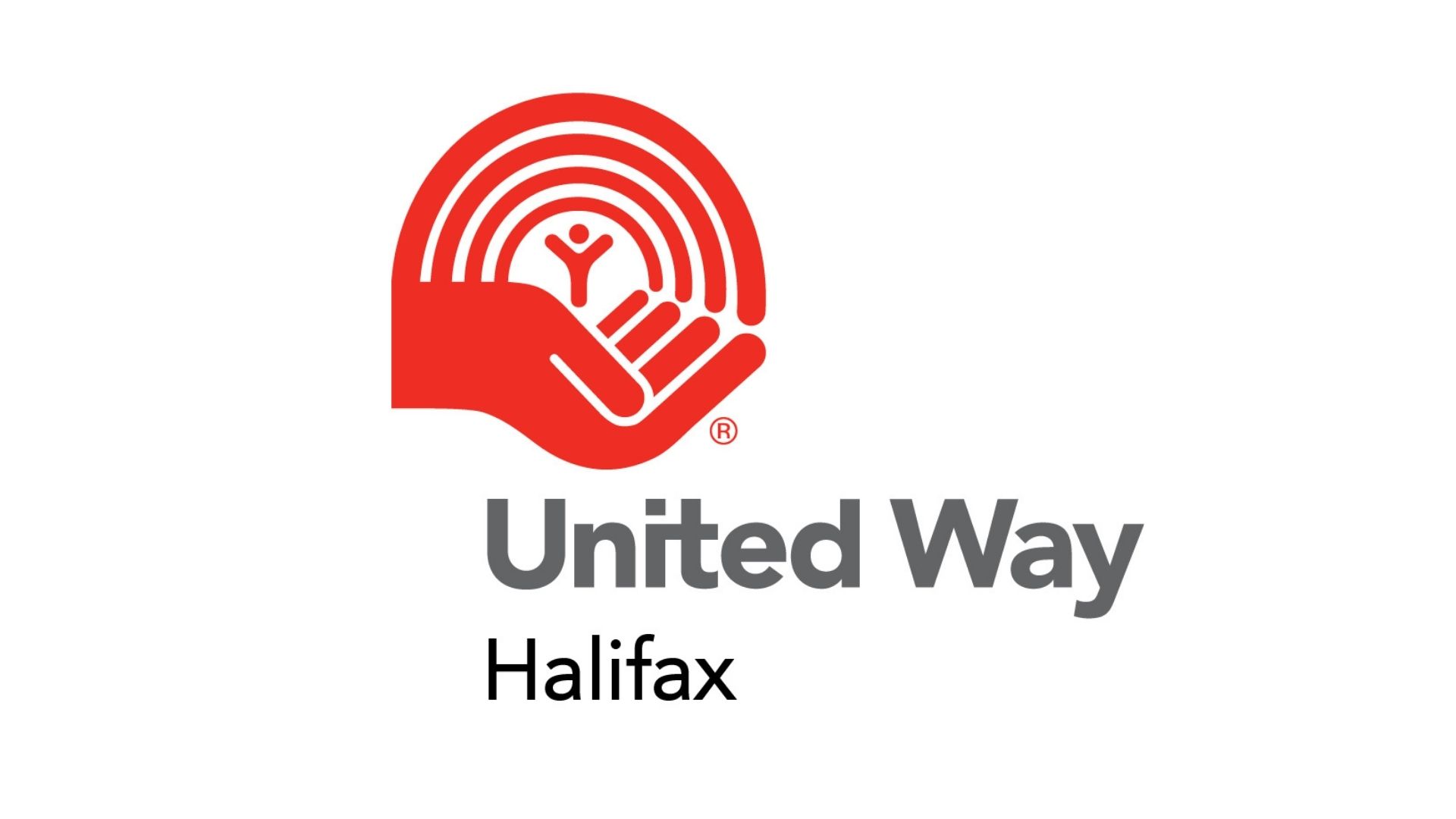 Donate to United Way
Year round, citizens can make a donation to United Way Halifax using any parking pay station. To make a donation, simply select "Help/Info" from the home screen and then opt for "Donation".
How to avoid a parking ticket
Watch for signs
Downtown signs can sometimes be tricky so ensure to read the signage carefully. Some roads in the downtown core have rush hour "No Stopping" zones. If your vehicle is parked at one of these locations during the posted rush hour times, it will be towed and impounded. In addition, watch for posted street cleaning signs and areas that have multiple signage.
Know the difference between "No Stopping" and "No Parking"
The "No Stopping" symbol is the most restrictive parking regulation. Once a vehicle has ceased moving, even if it is occupied, it is deemed stopped. Bus, Tour Bus, Taxi, and No Stopping zones are all off limits to unauthorized vehicles. If you choose to stop in any of these zones, you can be ticketed and towed.
The "No Parking" symbol is less restrictive. You may park in a "No Parking" zone as long as you are actively loading/unloading.
Loading Zones
You can remain parked in a loading zone for a maximum of 30 minutes as long as you are actively loading or unloading passengers or materials. Loading zones are in effect 6AM-6PM Monday to Friday unless otherwise specified on the signage. 24 hour loading zones are in effect 7 days a week, including weekends and holidays.
No longer loading/unloading but remain parked in the loading zone ? That's a violation of the Motor Vehicle Act [PDF] and may result in a $25.00 fine ($61.60 after 60 days).
Don't park at bus stops...
Drivers often pull into bus stops to wait for a friend, buy a cup of coffee, or use a bank machine. Even a quick stop blocks the zone, forcing Halifax Transit drivers to unload or load passengers on the street. This is a potential hazard and an inconvenience for other motorists when the bus is unable to pull into the zone. Parking at a bus stop is a violation of the Motor Vehicle Act [PDF] and may result in a ticket of $25.00 ($61.60 after 60 days). 
...or in accessible parking spaces 
Accessible spaces are a necessity—not a privilege—for people with disabilities. Be courteous and leave accessible spaces for those who truly need them. Parking in an Accessible Parking Zone unauthorized may result in a parking ticket of $100.00 ($136.60 after 60 days). Accessible parking is only enforced through signs. If you have a disability and require the use of an accessible space, ensure that your government-issued permit is visible from the exterior of the vehicle.
A helpful list of places you can't park in the Halifax Region
The following are parking violations and are considered hazardous. If you are parked here, your vehicle may be ticketed and/or towed:
on or within 5 metres of a crosswalk
on a sidewalk
in a fire lane
within 5 metres of a fire hydrant
in front of a private driveway
within 10 metres of a stop sign
less than 7.5 metres from a corner
in a bicycle lane
Common questions
How do I pay for parking?

You can pay for parking at the nearest pay station or by using the HotSpot app. You will need to know your license plate to initiate a parking session. Pay stations accept coins, debit, credit, or smartphone. 

Can I "top up" or add to my parking session?

Yes. You can add time to your parking session from the HotSpot app or a pay station.

Do I have to use HotSpot to park?

No. Motorists can register their parking session at the nearest pay station with just their license plate. HotSpot is a third-party app with subscription and/or usage fees that has partnered with CALE Canada to provide our parking solution. You do not need to download HotSpot to park on street. 

How much does it cost to use the HotSpot app?

HotSpot users can opt for a per-transaction fee of $0.10, a monthly fee of $2.00, or an annual fee of $20.00.

Do I have to park in front of or beside a pay station?

No. Paid parking areas are clearly signed. Look for paid parking signage indicating where you can park and the paid parking zone. Ensure you are not parked in areas marked with "No Parking", "No Stopping", or "Loading Zone" signage to avoid getting a ticket.

How do I know if I must pay to park on the street and how do I know where to go to pay?

Signs are installed on the streets where payment is required. For pay station locations, please refer to the pay station location map here. Please note that placement of a pay station does not always mean the area is a paid parking zone. Before you park, please ensure to check for paid parking signage.

How do I get a receipt for parking?

You can visit this website to receive a receipt.

What can I do if a pay station is not working?

If a pay station is not working, try another nearby pay station or the HotSpot app. Please note you are still responsible for payment of your parking session. You may report the pay station issue by calling 311 or sending an email to contactus@311.halifax.ca.

What can I do if there's a problem with my HotSpot app?

Contact the service provider via its website, mobile app, or call 1-855-712-5888 (toll-free). Please do not call 311 to report issues with the mobile application. 

What is HotSpot's Data and Privacy Policy?

HotSpot's policy can be found on their website.  If you have specific questions about the use of your data please contact HotSpot directly via email.

When do I have to pay for parking?

Paid parking is in effect 8a.m. to 6p.m. Monday to Friday. Parking is free on weekdays after 6p.m., on weekends, and on most holidays.

How long can my commercial vehicle park on-street?

Commercial vehicles can be parked on-street for no more than two (2) hours without moving. To determine if your vehicle is a commercial vehicle, please refer to the Motor Vehicle Act or Registry of Motor Vehicles.