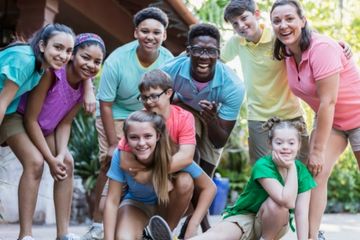 Ready for Rec programs are designed for children and youth who have diverse needs and require additional supports to be successful in a recreation environment. The focus is on accommodations, adaptations, and small participant to instructor ratios tailored to individual skills and learning styles.
Ready For Rec 2023 Programs
We're pleased to offer Ready for Rec summer camp programs. To be added to our mailing list for program updates, please contact inclusion@halifax.ca. 
Summer Camp Programs
Programs for youth (13-18)
Ready for Rec youth summer program
Date: Weeks of July 4, July 10, July 17, July 24, July 31 and August 8 
Time: 10 a.m.–3 p.m.
Location: Central Spryfield Elementary School, 364 Herring Cove Road, Spryfield
This fun summer program is designed for youth with disabilities aged 13-18. Participants will explore the community and learn new things along the way. The focus is healthy living through fun recreation activities. Participants should be able to be in a group of two or three campers to one staff.
Outdoor Camp
Date: Week of Aug. 14 and Aug. 21
Time: 10 a.m.- 2p.m.
Location: Shubie Park (drop off by the Fairbanks Centre)
The Ready for Rec Outdoor Camp offers an inclusive and supported environment for youth (13-18) with disabilities to learn and explore nature. Participants will engage in a combination of structured and unstructured seasonal activities, such as nature walks, scavenger hunts, creative expression and free play. This program offers one-to-one staffing if needed.
To register for Ready for Rec youth programs, please contact inclusion@halifax.ca

Programs for children (5-12)
Dartmouth
Date: Begins July 4, 2023 and runs until Friday Aug. 4, 2023
Time: 9 a.m.–3 p.m.
Location: Hawthorne & Findlay 
Spryfield
Date: Begins July 4, 2023, and runs for seven weeks (no camp on the week of Aug. 7)
Time: 9 a.m.–3 p.m.
Location: Captain William Spry Community Centre, 16 Sussex Street, Spryfield
To register for Ready for Rec programs for children aged 5-12, please choose this as your first option when registering with the inclusion barcode (00068313) at halifax.ca/myrec.