Information for new passengers on Halifax Transit
What is a transfer?
A transfer allows you to connect to other buses or ferries to complete your trip without paying an additional fare. Transfers are valid for up to 90 minutes after the last time point on the route.
If a transfer is needed, it must be requested when boarding the bus or ferry. Transfers are available on all routes. Access-A-Bus passengers may also request transfers.
How do I know which bus I need to take and when it arrives?
Maps and schedules for each bus and ferry route are posted to Halifax.ca. Halifax Transit provides scheduled and real-time bus information to Google Transit and Bing Maps.
Real-time departure information is available on the Departures Line (902-480-8000) or via our GTFS feed.
Still have questions? Please contact the Citizen Contact Centre toll-free at 311.
Are Halifax buses and ferries accessible?
Currently, 100% of Halifax Transit buses are accessible low floor (ALF) models. All of Halifax Transit's ferries are accessible.  Please visit our policies page for information about wheelchair/mobility scooter size restrictions.
Operators will deploy the ramp at the request of a mobility impaired passenger at any bus stop, other than those marked with a 'No Ramp Deployed' decal. Our three bus stop classifications are as follows:
Standard ALF Bus Stop (as indicated by an International Symbol of Access (wheelchair) symbol) meets Halifax Transit's accessible standards; where the ramp can be deployed, the bus stop has a concrete landing pad (minimum size 1.5 m x 2.5 m) with access to a sidewalk, and ALF buses are used to serve designated accessible routes at this stop.
Inaccessible Bus Stop (as indicated with a 'no ramp' symbol) is where the accessibility ramp cannot be deployed under any circumstance.
Non-Standard ALF Bus Stops (as indicated by no symbol) is where the ramp can be deployed, but these stops are not considered accessible under Halifax Transit standards and may only be used at the passenger's own determination and risk.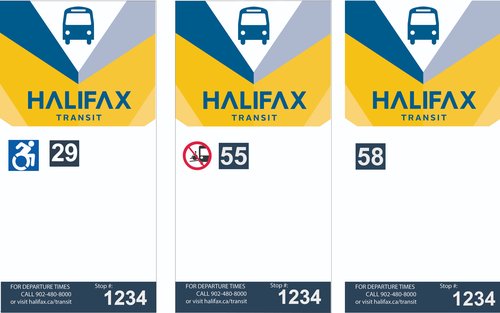 Halifax Transit offers wheelchair and mobility scooter orientation sessions to familiarize passengers with how board and use these apparatuses on buses.  Contact the Citizen Contact Centre toll-free at 311 to request an orientation.
If needed, please ask the bus operator to lower the bus.
Do bus and ferry schedules change on holidays?
Please see the Holiday schedules page for more information regarding the services offered by Halifax Transit on holidays.