Why is transit priority needed here?
Served by eight routes and more than 40 buses during the morning and afternoon peak hours, the Robie/Young Street Transit Priority Corridor project is a key component of the Integrated Mobility Plan (IMP) and the Rapid Transit Strategy. The IMP recommended investment in transit lanes on several key corridors to prioritize buses over individual traffic, improve transit reliability, improve the efficiency of the regional transportation network, and ultimately encourage more people to use transit.
Additional links:
Project phasing snapshot: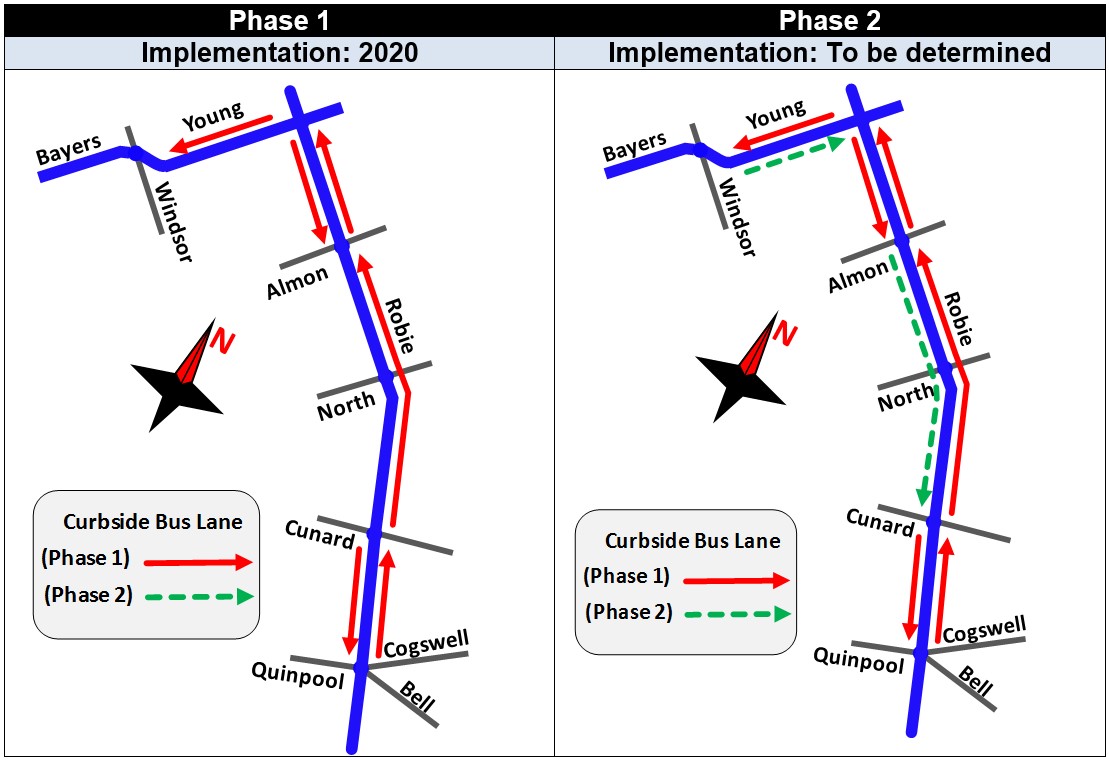 ___________________________________________________________________
If you have questions about this project, please see the frequently asked questions below:
Common Questions
Why are these bus lanes necessary?

Traffic congestion on Robie Street and Young Street has significant impacts on Halifax Transit and reduces the ability to provide a high quality, reliable service to residents. Adding bus lanes to this roadway corridor will help to improve transit service and play a key role in achieving the desired transportation vision included in the Integrated Mobility Plan (IMP), the Moving Forward Together Plan (MFTP) and the Rapid Transit Strategy. Robust public transit will be key to supporting HRM's ongoing rapid growth.

Why Robie Street?

Robie Street runs down the center of the Halifax peninsula and for most of its length is a wide, four-lane boulevard with connections to many key destinations including hospitals, universities, commercial centres, and the Commons. It currently serves multiple bus routes and has been identified as a major component of the Bus Rapid Transit (BRT) network proposed in municipality's Rapid Transit Strategy.

Why Young Street?

Young Street, in addition to serving the rapidly growing Young-Robie area, connects the existing bus corridors on Bayers Road and Robie Street, and is a component of the Bus Rapid Transit (BRT) network proposed by municipality's Rapid Transit Strategy.

Is the municipality purchasing land as part of this project?

Yes.

To complete transit priority lanes and related upgrades along Robie Street, the public right-of-way needs to be widened in some areas and acquisition of property will be necessary. Staff have contacted impacted landowners.

How will this project impact pedestrians?

Part of the Phase 2 upgrades to the Robie-Young Transit Priority Corridor involves bringing the pedestrian infrastructure on the corridor up to a level appropriate to support the current and future growth in the area. Wider sidewalks, better separation between pedestrians and vehicles and intersection improvements will contribute to a safer, more comfortable neighborhood for pedestrians.

How will the project impact cyclists?

These upgrades will not add dedicated bike infrastructure to the Robie Street corridor due to width constraints. Cyclists are permitted to use transit lanes where no dedicated bicycle facilities exist.

How will the project impact trees?

Some sections of this project contain significant mature trees, although some have been lost or stunted due to the constricted nature of the boulevard spaces. Some mature trees will need to be removed during the project. Arborists and designers are working together to produce a plan which minimizes the loss of mature trees on the corridor and maximizes the opportunity for new plantings. Wider boulevards are being considered as part of the design to support more and healthier street trees in the future.

How do the time restrictions for the bus lanes work?

On Robie Street, the bus lanes are in effect between 6 a.m. – 6 p.m., Monday to Friday. On Young Street, the bus lanes are in effect at all times. Time restrictions are identified on roadside signage. During these periods, vehicles are not permitted to drive, park or stop in the bus lanes. However, vehicles are permitted to merge into the bus lane to make a right turn at an intersection or driveway.

Why are bus lanes only present in one direction in some areas?

Some sections of the Robie Street / Young Street corridor are currently too narrow to add bus lanes in both directions and widening of the roadway is required. Phase Two of the project aims to add bus lanes in both directions; planning and design work for Phase Two is currently underway.
Project Contact
If you have additional questions, please contact the project manager at the information listed below: