The municipality has been working towards the establishment of the Blue Mountain-Birch Cove Lakes (BMBCL) Regional Park since its identification in the 2006 Regional Plan. The intent was re-affirmed in the 2014 Regional Plan.
Recent Direction from Regional Council
At the May 23, 2023 meeting, Regional Council passed a motion directing staff to continue to advance the park planning project in alignment with the Parks Canada National Urban Park program. Where the next steps in advancing the project are being done in alignment with five other Project Partners, the focus of the proposed planning will be on lands under the ownership and control of this Partnership Group.
This direction is consistent with the December 7, 2021 motion of Regional Council, which directed that the municipality consider an enlarged area that was beyond the conceptual boundaries as shown on a map found in the 2014 Regional Plan.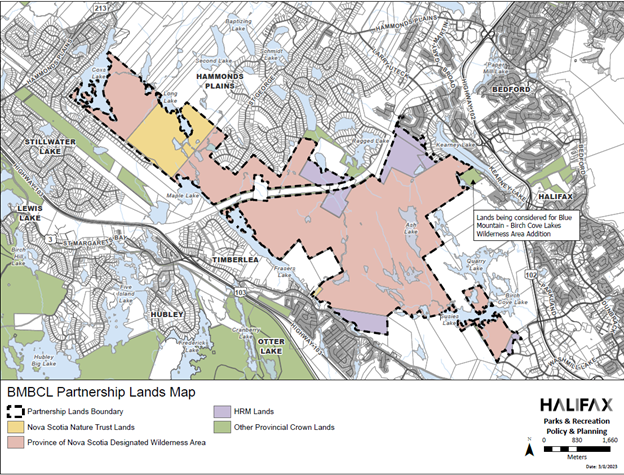 Working with Parks Canada and other key Partners
An important element in the municipality's progress on BMBCL has been the collaboration that has occurred with an emerging set of Project Partners, including:
Parks Canada

Nova Scotia Environment and Climate Change

Nova Scotia Nature Trust

Mi'kmaq of Nova Scotia as represented by Kwilmu'kw Maw-klusuaqn (KMK) and by Sipekne'katik First Nation.
Project Partners provide a valued perspective and role in the Park's development. Collaboration is also a key component in Parks Canada's National Urban Park designation process. Where the next steps identified with the "Planning Phase" of the National Urban Park program are expected to address matters such as governance, a key milestone in park planning efforts in 2023-24 will focus on continued collaboration, with a focus on the development of a park plan.