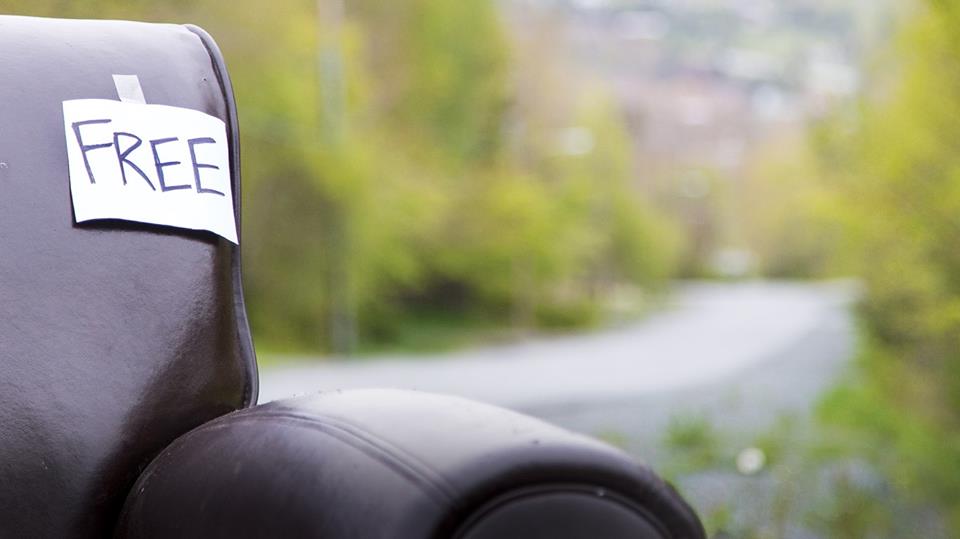 FREE up some space and get some FREE stuff!
Rid yourself of clutter and find some great FREE items of your own! Put out your unwanted household items during Curbside Give Away Weekend instead of discarding them. It's a great way to reduce the amount of garbage ending up in the landfill, while allowing someone else to find something new. 
This event happens rain or shine, Saturday and Sunday, October 14 & 15 , 2023.
During Curbside Give Away Weekend:
Post your items on the Interactive Map or Facebook event.
Place re-usable household items at the curb in front of your home during the weekend
Only place items that are free that are clearly marked with a "FREE" sign
Then sit back and watch your old stuff be adopted by your neighbours, or complete strangers scouring the city for discarded gems. Share your finds and connect with other treasure hunters on social media and use the hashtag #hfxcurbside.
If no one picks up your stuff, remember that all unclaimed items must be removed from the curb by dusk on Sunday. Consider donating unclaimed items to charitable organizations, and place any garbage material out for collection on your regular garbage day.
Curbside Give Away etiquette for placing items at the curb
Place signs on items with the word "FREE."
Items should still be in good condition for re-use or able to be repaired.
Keep items you do not want to give away close to your house, or inside to avoid confusion.
Don't discard items on another person's lawn.
Curbside Give Away etiquette for treasure hunters
Respect private property – don't walk or drive on people's lawns or gardens.
Take only the item(s) at the curb marked "FREE."
Obey traffic laws at all times (e.g., don't block traffic, park illegally, or block driveways with your vehicle).
Watch out for children.
What can be placed at the curb?
Books, CDs, and DVDs
Furniture and small appliances
Sports equipment and toys
Tools
Yard and gardening equipment
Kitchen gadgets, dishes, cutlery, pots and pans
Unwanted gifts
Construction material including drywall and hardware
Electronics
Clothing
Paint
Holiday decorations
What shouldn't be placed at the curb?
Items that are not re-usable (place garbage for collection out on your regular garbage collection day/week)
Items that could be infested with bed bugs (e.g., mattresses, furniture, bedding)
Visit the Consumer Product Safety Bureau to find out about items that aren't safe to give away.
Certain electronics items are not accepted for curbside collection and must be taken to a drop-off location
What can I do with left over items?
Use the Halifax Recycles app to determine what to do with a left over item.
Donate to local charitable, non-profit organizations, or community groups, or to textiles/clothing recyclers.
Add the item to the Halifax Freecycle Network.
Post your item for trade or sale on local buy and sell Facebook Groups.