Property Tax Bill Update
The Halifax Regional Municipality has made changes to the property tax bill format and is providing additional ways to communicate about your account.
For all other information about your property tax, click here. For information about how the property tax bill is determined, click here. 
Changes include:
new property tax bill format
new options to communicate about your tax bill
account number update (which will mainly impact residents who pay via online banking)
changes to your property tax bill amount
To view a PDF copy of the tax bill insert please click here.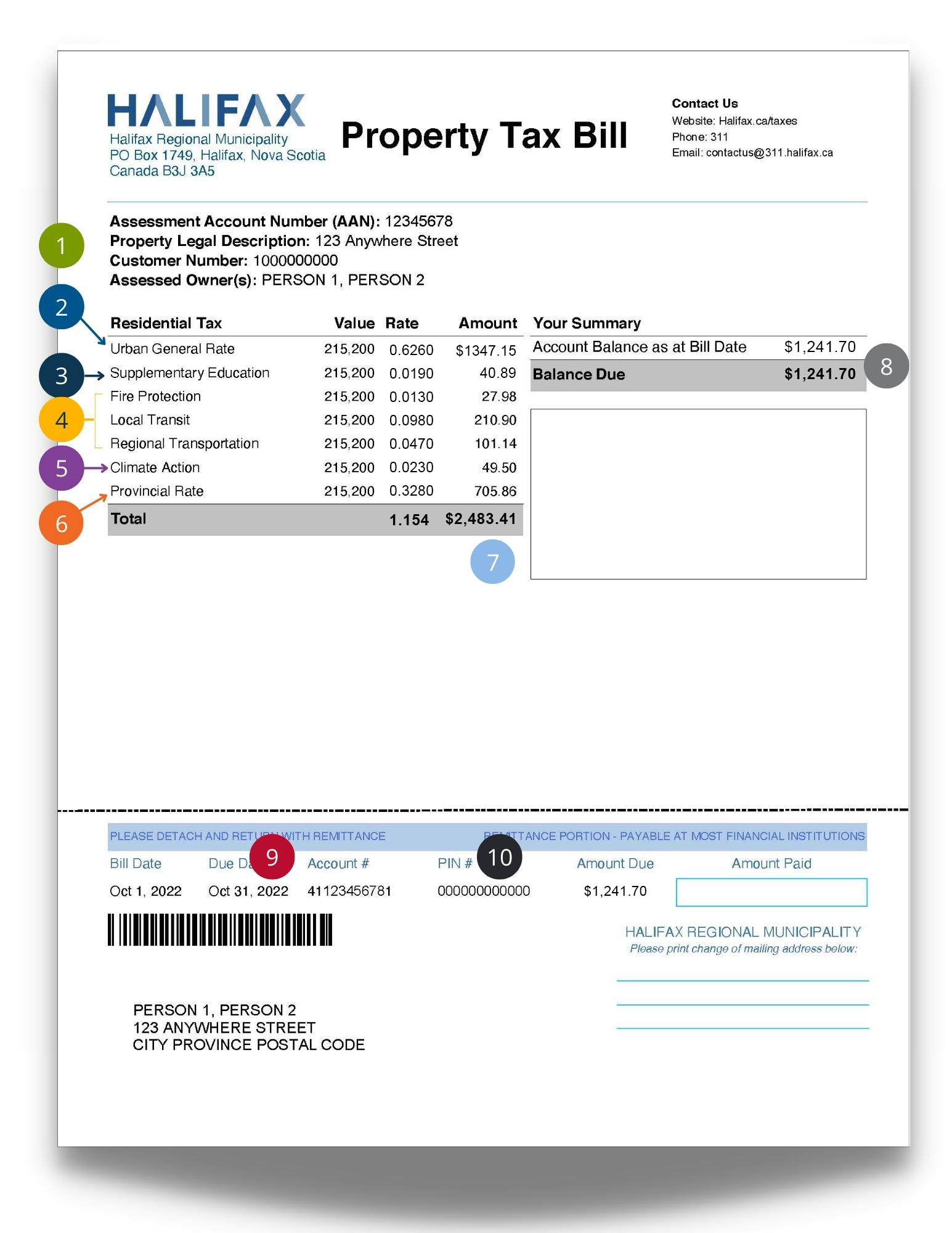 Legend:
Property description

Assessment Account Number
Property Legal Description
Customer number
Assessed Owner(s): Person 1, Person 2

General tax rate – funds the various services the municipality provides, such as policing, solid waste, recreation programs, libraries and sports fields. The charge on your property tax bill will be listed as urban, suburban or rural, depending on where you live
Supplementary education rate – used to supplement funding to the Halifax Regional Centre for Education (HRCE) and the Conseil Scolaire Acadien Provincial (CSAP), the province-wide Acadian school board, for programs within the Halifax region
Area charges – fund specific services in your area and vary depending on where you live. Area charges include:

Fire protection – the Nova Scotia Utilities and Review Board (NSUARB) requires the municipality to make a contribution to fund the operations of the Halifax Water. This contribution is used to fund the hydrant costs incurred by Halifax Water and is set by a formula approved by the NSUARB. The hydrant charges are recovered via a special fire protection area rate that the municipality levies on all properties within 1,200 feet of a hydrant available for public fire protection. Check the fire protection area map [PDF] to see if this applies to your property.
Local transit – residents who live within one kilometre of a conventional or community transit stop will pay a local transit rate. Refer to the local transit mapped area to see how your property is affected. 

Regional transportation

– covers services such as Regional Express and other express Halifax Transit routes with park and ride facilities, including ferry services. The cost for these regional services is shared by almost all residential and resource properties, including those in urban areas and those in areas where people can typically commute into the urban area within 45 minutes. Refer to the regional transportation mapped area to see which properties are included. 

Climate action – see details on page two of the tax bill insert
Provincial rate – collected by the municipality on behalf of the Province of Nova Scotia
Total property taxes for the current year
Balance due – current amount owing
Payment due date