Interested in running in the Municipal or Conseil scolaire acadien provincial Election? The next regular election will be held October, 2024. Here you will find information on requirements, official forms and more.
Click on the image below for a 30-minute information session, which will provide important details you will need to Become a Municipal Candidate.
Please note that the below video contains relevant information on how to become a municipal candidate, however dates are specific to the 2020 Municipal Election; updated information for candidates will be made available prior to the 2024 regular election.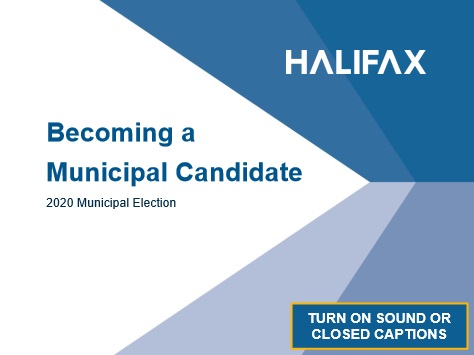 Download the Candidate Information Package [PDF] to learn general information, key dates, and more. 
You can also download the Municipal Affairs Candidate's Guide for the 2020 Regular Election in English and in French [PDF].
 
The Nova Scotia Status of Women office has produced campaign support materials for women interested in running in an election. Visit https://women.novascotia.ca/publications/women-leadership for more information.
 
The Requirements
To be a candidate in either a municipal or school board election, you must be: 
18 years of age at the time of nomination
a Canadian citizen
ordinarily resident in the Halifax Regional Municipality for six months preceding nomination day, and continue to so reside 
You don't need to live in the polling district that you're running in, as long as you meet the residency requirement of six months in the municipality.
The Paper Work
All candidates must either appoint an official agent or file a declaration that you'll be acting as your own official agent. The official agent must keep track of any campaign contributions and open a separate bank account for this purpose.  You should appoint your agent before you begin to accept any campaign contributions. Filing your agent forms will be made public and posted to the municipal website.
Campaign contributions 
Running for office means you are held to the same standards of accountability and transparency as the rest of the Halifax Regional Municipality. This has a direct impact on raising funds for your campaign. 
Council passed updates to the By-law C-1100, the Campaign Finance By-law on July 16, 2019 [PDF]. This By-law works in concert with the campaign provisions in sections 49a and 49B of the Municipal Elections Act. School Board candidates are exempt from this By-law. For a summary of the By-law read the Election Campaign Finance Pamphlet [PDF].
Questions are encouraged!
Election Office
Phone: 902.490.6810
Email: election@halifax.ca