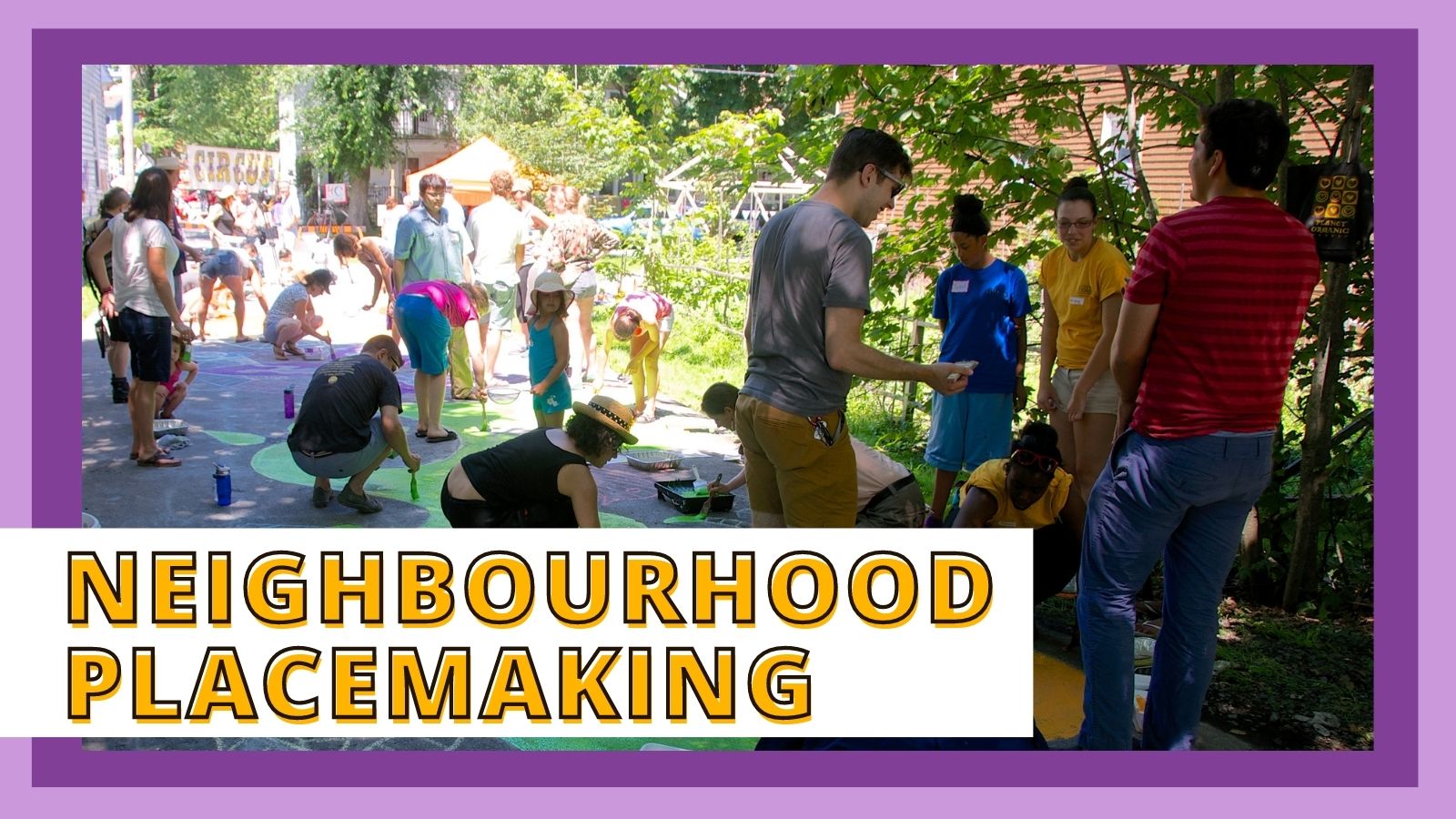 Want to connect with your neighbours and create a placemaking project in your community?
Apply to host a Neighbourhood Placemaking project and receive training, guidance, and up to $1,500 in support funding from the municipality. The deadline to apply for projects taking place in 2024 is October 31, 2023.
To apply, read the Information Booklet then fill out the Application Form online. We encourage all applicants to first reach out to the Community Developer in your area. 
What is Neighbourhood Placemaking?
The purpose of Neighbourhood Placemaking is to celebrate and explore a neighbourhood's unique identity while connecting neighbours and creating a place people are drawn to. The result? Welcoming and livable communities where neighbours have more opportunities to get to know one another. Projects are resident-led and may include: 
painting on municipal street intersections
building a neighbourhood bench
creating stepping stones
making a community film screen
many other creative idea you can think of!
Local placemaking advocate, Greg Woolner, describes placemaking as "Community working together to make (a) place special. They make it a place where people want to go to, where they feel safe and welcome. They make it beautiful and interesting. They make it meaningful, an expression of their own local culture."

Municipal staff provide support to seek necessary approvals and work collaboratively with community members to design accessible, creative, and successful projects.
How do I apply for support with a project?
If you would you like to see a placemaking project in your neighbourhood, we would love to hear from you! Our team of Community Developers are available for feedback, brainstorming, and to familiarize you with the program. Review the Neighbourhood Placemaking Information Booklet for detailed instructions on the 13-step process to host your own placemaking project. 
Contact Placemaking
placemaking@halifax.ca
Kate Moon, Community Developer
902.717.4483

Past placemaking projects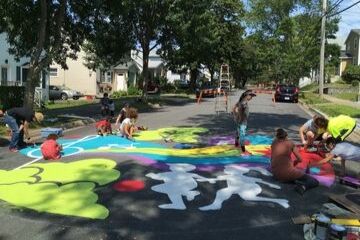 Roslyn Road Street Painting (2019)
The Roslyn Road street painting was led by a group of young families who wanted to create eye-catching art. The goal was to bring the community together and demonstrate to motorists that young children live in the neighbourhood. The residents hired artist Lizane Tan to design the art based on neighbourhood meetings where the residents brainstormed and agreed on what they wanted represented in the design.

On a (mostly) sunny August day, residents of all ages helped make the street painting a reality. Residents who have lived on the street for over twenty years got to know each other for the first time and lasting friendships were made.
Time lapse of Roslyn Road street painting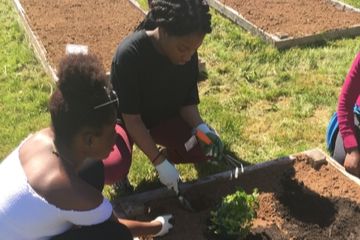 Come BEEA Part of Our Garden (2019)
"Come BEEA part of our garden" was a project that bloomed within the walls of Chebucto Connections. Students from both Pathways to Education and Family S.O.S. along with community members teamed together to rejuvenate an existing community garden space in the Greystone community in Spryfield.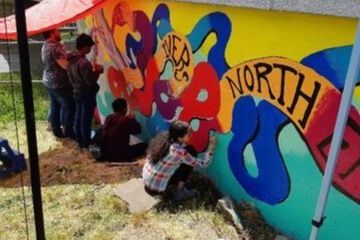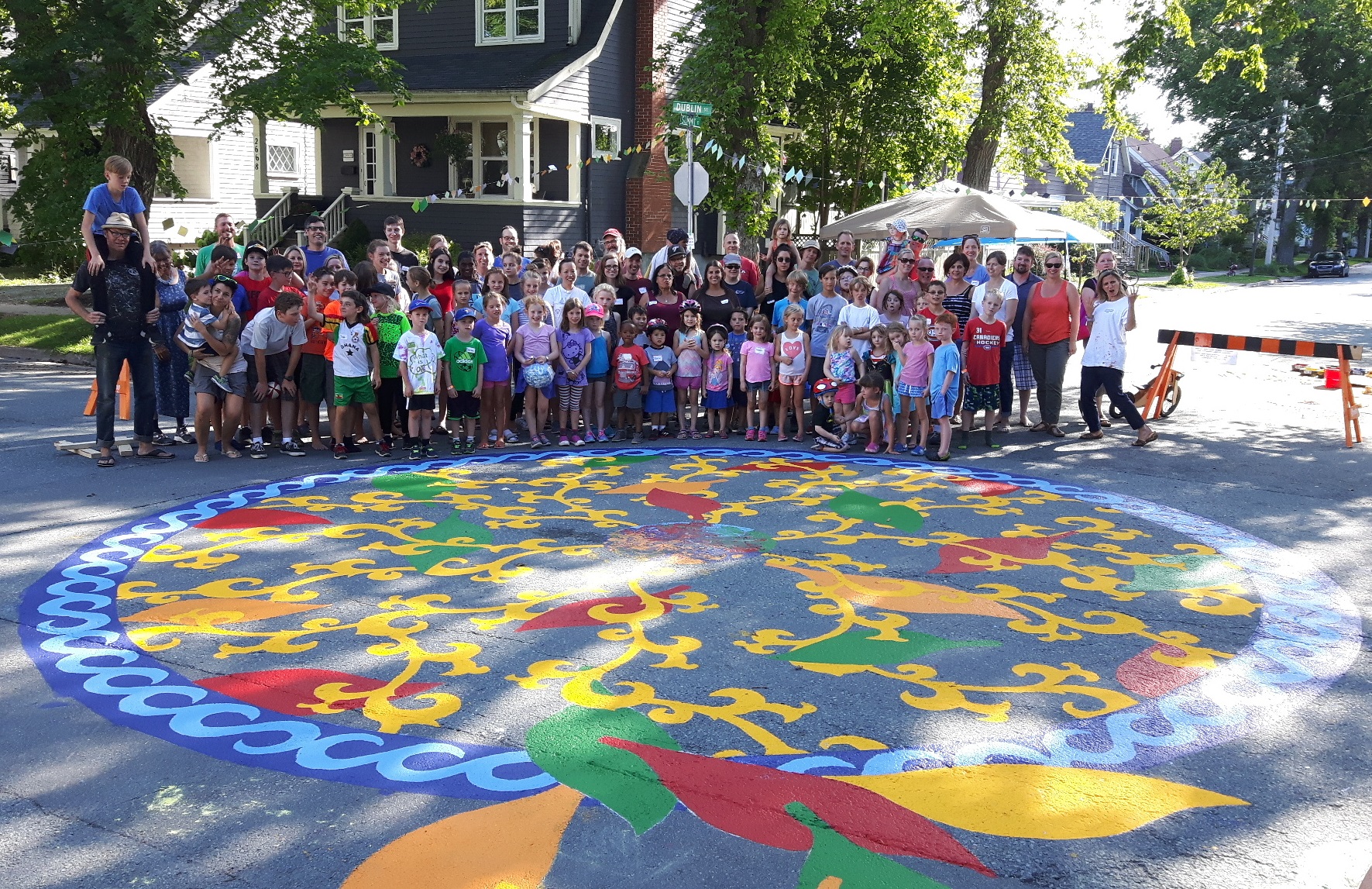 Dartmouth North Mural (2018)
With input from all grade levels of John Martin Junior High, students created a mural that represents the positive aspects of the north end and the pride that the students have in their community. The event day was a collaboration with staff, students, and community members. 
Spryfield Community Outdoor Theatre (2017)
The Spryfield Community Association found a great place in their community at the Spryfield Urban Farm and made it that much better. They used a natural amphitheatre space nestled in the woods on the farm grounds and built an outdoor theatre. The goal was to create a space for people to come together to share their interests and ideas. Residents can enjoy a unique outdoor movie experience in their own backyard, connect with their neighbours and experience the long-established gem of the Urban Farm.
 
The group designed the theatre based on community consultations. The Association plans regularly scheduled films throughout the summer and fall. Long-term community engagement includes opportunities for residents to vote on which movies they would like to see, as well as possible collaborations with local film makers.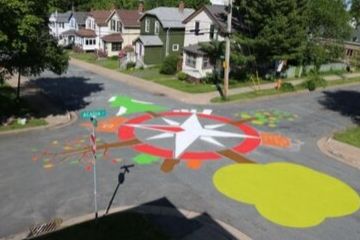 Making Roome (2016)
Residents on Roome Street and surrounding area participated in the planning, designing, and creation of a street painting located at the intersection of Roome Street and Acadia Street in Halifax. The process brought community members closer together built stronger connections, created a network for neighbours to draw from, and the artwork beautifies the street and creates a more meaningful sense of place.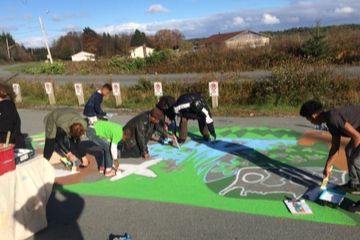 North Preston, East Preston, and Cherry Brook (2016)
Community consultations were held in North Preston, East Preston, and Cherry Brook in Spring 2016. Over 200 people in three communities participated and shared what they loved about where they lived.

Three themes for the art work emerged as a results of the consultations. It was decided that each community would have their own distinct work of art. One theme is represented through the art work in each community. East Preston represents "Our Land", North Preston represents "Our Faith" and Cherry Brook represents "Our Family. Each art work connects to create a large picture called "Our Home".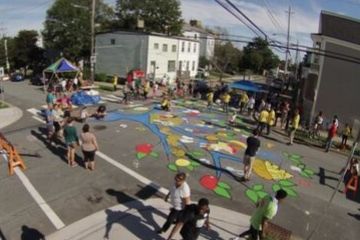 Creighton Street Painting Project (2015)
Residents, neighbours, the Joseph Howe school community, local businesses and housing centres of the Halifax Regional Municipality participated in a street painting project located at the intersection of Charles and Creighton Streets in Halifax during 2015.

The organizing group wanted to create an opportunity for neighbours to get to know each other by sharing a common project that would beautify the neighbourhood and cultivate connections among residents and other businesses and groups of the area. While the street painting itself was a central focus, painting day had an abundance of activities from jazz bands, choir groups, potluck, drum lessons, bbq, face painting and more. The community has made the neighbourhood festival an annual event since the initial success of the project brought over 700 people together to participate and celebrate on painting day.

Artist and long time resident Marven Nelligan worked with the project core team and community members to create the design for the street that represented the rich storey of the neighbourhood.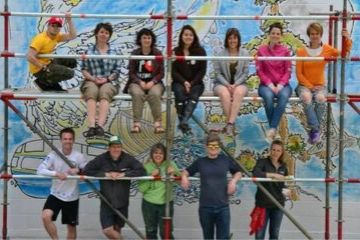 Findlay Community Centre Film Screening Wall and Mural (June 2015)
Residents of the Findlay Community Centre/Hawthorn Elementary School area came together to plan a project that would celebrate community identity and pride, grow new and deepen existing community connections, explore diverse uses of community space, and provide an intergenerational opportunity for all neighbours to collaborate on a fun and creative project.

An outdoor, community-operated film screen space is now installed on the rear wall of Findlay Community Centre. This has become a new venue for residents to use as a backdrop for presentations, movie nights, community and regional arts events, and for outdoor classroom opportunities.

The screening area is attractively framed by beautiful wall mural artwork of important Dartmouth imagery designed by local artist Lee Cripps and created by community participants.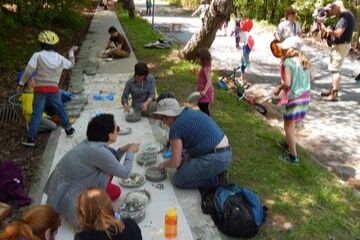 Union Street Community Stepping Stones (2015)
Local residents wanted to continue to build on the success of a recently built community garden in this area by creating a series of stepping stones that were made by children and families in the neighbourhood.

Community members young and old rolled up their sleeves and pulled pounds of Japanese Knotweed, picked up garbage, and reclaimed the path that once wound through the woods to the garden but had become overgrown and unusable. The stepping stones are installed along the foot path that runs across the forest.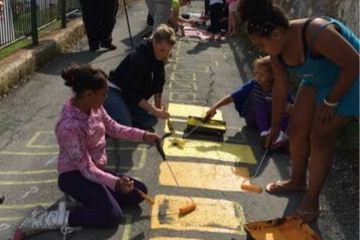 Mulgrave Park (2014)
The Mulgrave Park Caring and Learning Centre, the Tenants Association, and the Phoenix Youth Program came together to work with North End artists Heather Wilkinson and Melissa Marr on a project that aimed to fulfill its residents' wishes for beautification within the Mulgrave community.

Now, a vibrant path depicting symbols of music and movement leads from the entrance of the Caring and Learning Centre, through the parking lot and to the entrance of the Phoenix offices. The youth of the community access both programs, so the path highlights the connection and creates a fun traverse between the two. The feathers and figures featured in the artwork, as well as the MGP logo, are direct translations from some of the talented neighborhood youth.

This project was supported by the municipal Placemaking program and funded through a grant from the 4Cs Foundation.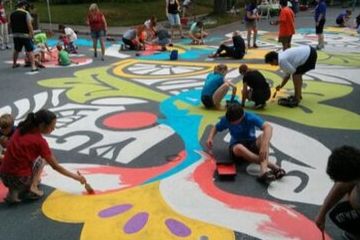 Deacon and Windcrest Placemaking (2014)
This street painting and neighbourhood celebration is located at the corner of Deacon Street and Windcrest Terrace in Halifax.

The aim of the project was to beautify the streets, inspire closer connections between neighbours, and bring a sense of safety through a more connected community. The area has a good sense of community that members would like to maintain and grow. The local children were important and celebrated participants in this project and encouraged to exercise their civic voice.

The final artwork is the result of several sessions of community gatherings, brainstorming, and discussing important topics relevant to this neighborhood. Local artist and illustrator Anna Ramsay helped to interpret the community's vision through the painting's design. Each symbol in the street painting has special and intentional meaning: the fox represents the Fox family who have lived there for decades, the horn represents the local artists and musicians, the blue bells nod to the streets past heritage.

This project was supported by the HRM Placemaking program and funded through a grant from the 4Cs Foundation.               
Time Lapse of Deacon Street Placemaking Project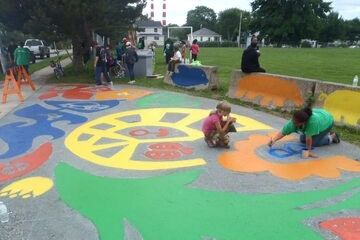 Dartmouth North: HOME is where the heART is, 2013
The Take Action Society, work to promote a positive influence in helping to create a stronger healthier community by providing opportunities for the community to become more involved.
"HOME is where the heART is…" was a community art project initiated by the Take Action Society and was painted on the school grounds of Harbour View Elementary School in 2013. Funded by the 4Cs Foundation and guided by artist Anna Ramsay, this 100-foot pavement mural represents the history of Dartmouth North and all that makes the community home to its residents. The history of Dartmouth North is captured on the concrete barricades located at the driveway entrance to the school, and the community's view of "home" adorns the pavement, driveway-to-driveway, facing Alfred Street.
The Take Action Society - Dartmouth North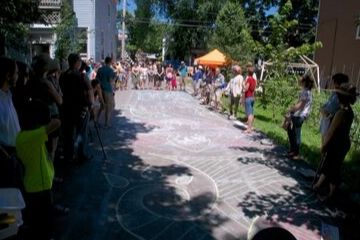 Chebucto Lane, 2013
Inspired by the success of the pilot project at Black Street and Northwood, a core group of Halifax residents initiated a placemaking project for Chebucto Lane. Community members came together over eight months in a process that included creative workshops, history presentations on the area, school programs, art workshops, neighborhood walks, and social events designed to bring people into a conversation about where they lived and what they wanted to see happen in their neighborhood.
Painting day brought together 300 Halifax residents to complete a 20-meter long mural on the street, play games, tell stories, dance to live music, BBQ, give away lemonade, and chat with neighbors who were strangers before. For this community, the painting was a way of taking control, of changing perceptions about the neighborhood and its diverse culture.
Funding was generously given by the 4Cs Foundation.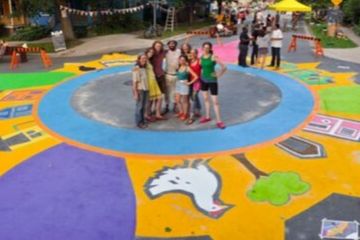 Pilot Project: Black Street and Northwood Terrace Intersection Painting (2011 - 2012)
On July 14, 2012, neighbours came together to transform the intersection at Black Street and Northwood Terrace by painting a large community-created design on the street as part of an HRM pilot project, co-sponsored by the 4Cs Foundation. A group of community members, operating under the name of Placemaking Halifax, spearheaded this project in collaboration with HRM. It was the first municipally-supported, community-driven street painting project in Canada.
This program was inspired by Portland, Oregon's City Repair model. In spring 2010, the model was introduced to HRM by Michael Cook from City Repair during the ArtsEngage! Symposium, organized by the 4Cs Foundation and other local partners. The City Repair model allows neighbourhoods the opportunity to organize and propose community art projects on city property. The community development model that City Repair uses aligns closely with HRM's Community Art Program.
The project was open to all residents of the neighbourhood, who gathered several times over the spring months. First, the group shared both what they appreciate about the community and their visions for the future. Many drawings were created along these themes, and artists presented concepts based on these visioning and drawing sessions. Together, the community collectively decided which of the final designs would be the new face of the neighbourhood.
Painting day became a celebration with music, food, children's activities, drumming circle, resident-led art installations, community discussions, and of course, the intersection painting. Hundreds of people came by through the day to watch and participate.
The success of this pilot project turned Placemaking into a permanent municipal program, and invites neighbourhoods to initiate projects that activate shared public spaces to give a sense of place and build community.
Black Street and Northwood Terrace Intersection Painting