The municipal government has made strides to reduce energy costs and greenhouse gas emissions by installing or retrofitting energy-efficient lighting in public areas. 
LED streetlights
LED streetlights are popular for their energy efficiency, long lifespans, and reduced maintenance requirements. These lights produce light that is focused on the ground, improving visibility and safety, while reducing light pollution. LED streetlights are also designed to reduce light pollution. To help make communities safer and more energy efficient, the Halifax Regional Municipality has replaced more than 44,000 traditional, high-pressure sodium streetlights in the Halifax region with energy efficient LED technology.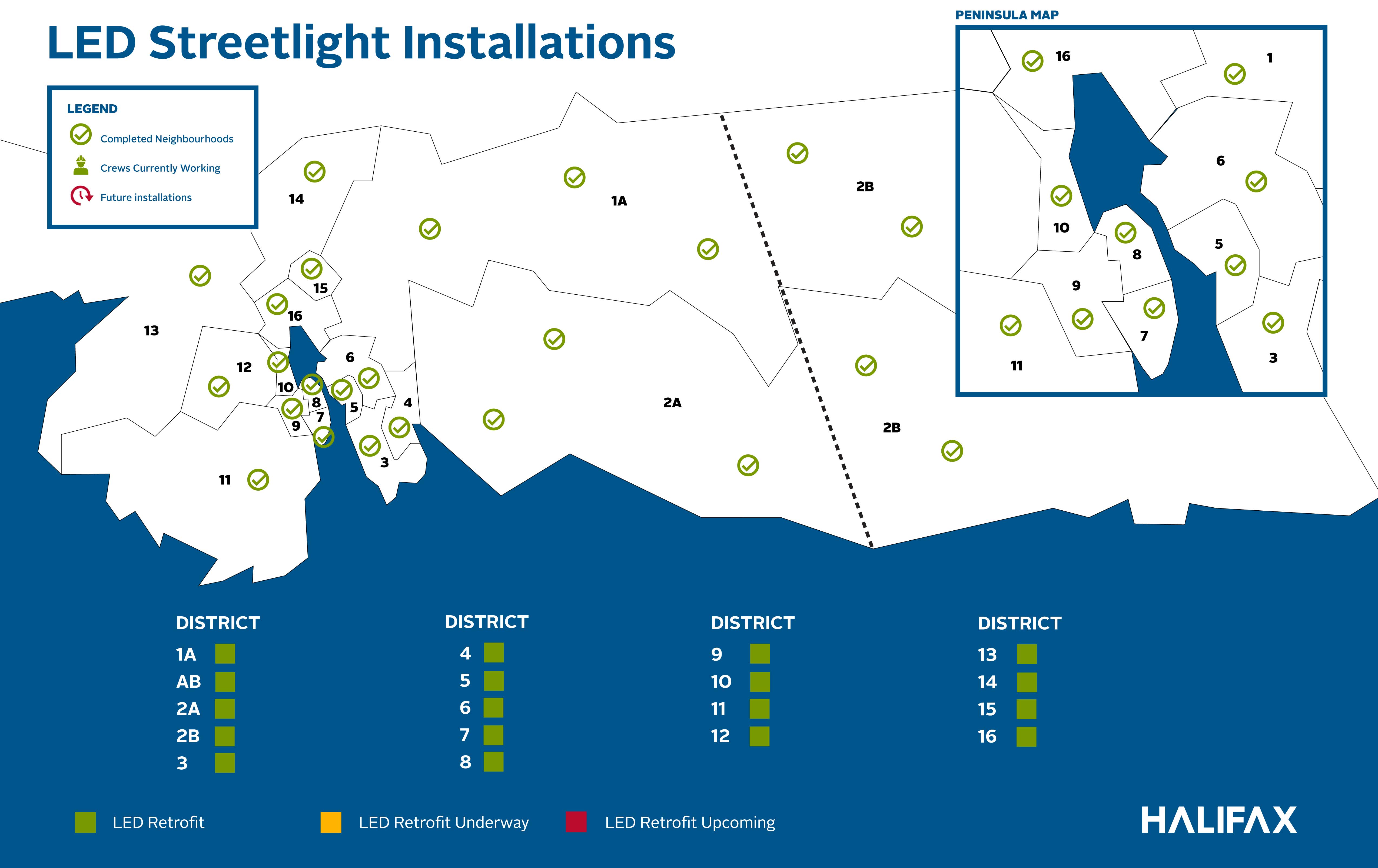 Please note that although all districts have been retrofitted, crews will be returning to most districts to replace isolated fixtures and to address noted deficiencies. This work will continue until Jan. 2018.
Common Questions
Why did the municipality replace existing streetlights with LED technology?
In April 2011, the Nova Scotia government amended the Energy Efficient Appliances Act to include existing high pressure sodium streetlights as inefficient technology that must be replaced by Dec. 31, 2022. That meant municipalities across the province had to come up with a plan to convert to energy efficient LED streetlights on all public streets and roadways.
Who owns and maintains the streetlights in the Halifax region?
The municipality owns and maintains more than 44,000 streetlights in the Halifax region.
Why do the LED streetlights seem so much brighter than the previous streetlights?
One of the reasons why the streetlights are so much brighter is because of the way the road was lit previously. Prior to amalgamation, there were various types of streetlights installed in different areas of the region – and so the lighting levels often varied from one community to another.  The light levels now provide adequate light levels at the street and sidewalk to meet current safety for pedestrians and motorists.
If you have concerns about lighting levels in your area, call 311. Municipal staff will assess the fixture(s) to ensure that the light level and wattage is consistent with the approved design. 
How can LED technology help improve safety in my community?
Traditional streetlights cast light in a variety of directions. LED streetlights are designed to be "full cut off" and dark sky compliant, which means they direct light onto the ground and reduce light pollution. The result is a much brighter, whiter light concentrated on the sidewalk and road space, improving visibility and safety for all users. The associated adaptive technology also offers real-time monitoring, which allows the municipality to better manage streetlight maintenance and replace burnt out lights much sooner.
Lighting retrofits
Since 2010, the Halifax Regional Municipality has partnered with Efficiency Nova Scotia to implement lighting retrofits in more than 100 municipal buildings.  Because of these efforts, the municipality avoids more than 1.8 million kWh and almost $200,000 per year in the retrofitted buildings.  As lighting technology and controls continue to improve, future retrofits will continue to avoid energy and costs to HRM.